When:
February 4, 2020 @ 6:15 pm – 7:45 pm
2020-02-04T18:15:00+00:00
2020-02-04T19:45:00+00:00
Where:
The Healthy Living Centre
68 Lonsdale Ave
Weston-super-Mare BS23 3SJ
UK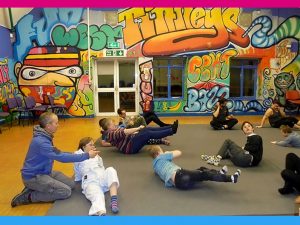 Fun Marshall Arts
PLEASE NOT THERE HAS BEEN A CHANGE OF VENUE
It is now at the Healthy Living Centre not the Cricket Club.
Come and have a fun filled energetic session learning Martial Arts.
Adaptive Martial Arts (AMA) is registered as a Community Interest Company (CIC). AMA aims to provide a safe, inviting and peer orientated environment where people feel comfortable in trying out exercise and Martial Arts.
Their aim is to increase confidence and self-esteem, whilst giving the participants tools and contacts to go on to pursue sports and exercise with AMA, individually or by using our signposting. Come along to the youth club and have a fun filled session with Gina and Chris and learn some techniques in Adaptive Martial Arts.
This week we will be building on the skills learned last time with Adaptive Martial Arts.
Remember to wear comfortable clothing again and come along to Weston Super mare cricket club for an exciting session.