Little Lotto - 50/50 Club
Play our Little Lottery for your chance to win a slice of the prize money.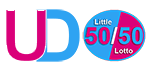 Being almost entirely reliant on voluntary income to safeguard our vital service into the future, you joining the Little Lotto 50/50 club will certainly help us.
While not as big as the major lotteries and the prize money is not as big, by taking part in our lottery you do know that your money is directly helping children and young people with Down Syndrome have a better future.
Tickets for the Little Lotto 50/50 club cost £1 each.
You can buy as many as you like on a recurring monthly basis.
The draw is held monthly.
The prizes are awarded:

First Prize 50% of total prize fund
Second Prize 30% of total prize fund
Third prize 20% of total prize fund
A single play each month will cost just £1, and your unique lottery number will be entered into the monthly draw. You are automatically notified if you win – you do not have to make a claim.
Little Lotto 50/50 Club Terms
Players must be resident in the UK.
The monthly fee is £1 per entry.
Members of the Little Lotto 50/50 club must be over 16 years of age.
There is no restriction on the number of entries you may purchase.
Each Monthly draw takes place in the Month following payment, once bank statements have been checked.
Only paid entries in a month will be considered for the draw.
Each draw is undertaken by our administrator and is witnessed.
Winners will be notified shortly after the draw takes place.
Licensed by the Gambling Commission under the 2005 Gambling Act gamblingcommission.gov.uk. Reg No: Lot/024211
Any concerns or complaints relating to the running of the Little Lotto 50/50 club shall be directed to the Operations Manager or the Board of Trustees.
Please gamble responsibly: www.begambleaware.org.
Where your money Goes
All the proceeds from our Little Lottery come directly to Ups and Downs Southwest. Each £1 ticket is divided as follows:
50p from every £1 covers the prize fund.
50p goes towards the costs of running Ups and Downs Southwest.
Little Lotto Prize Winners