Other Ways to Help
There are many other ways you can help us, and surprisingly they can be done in the course of your normal day.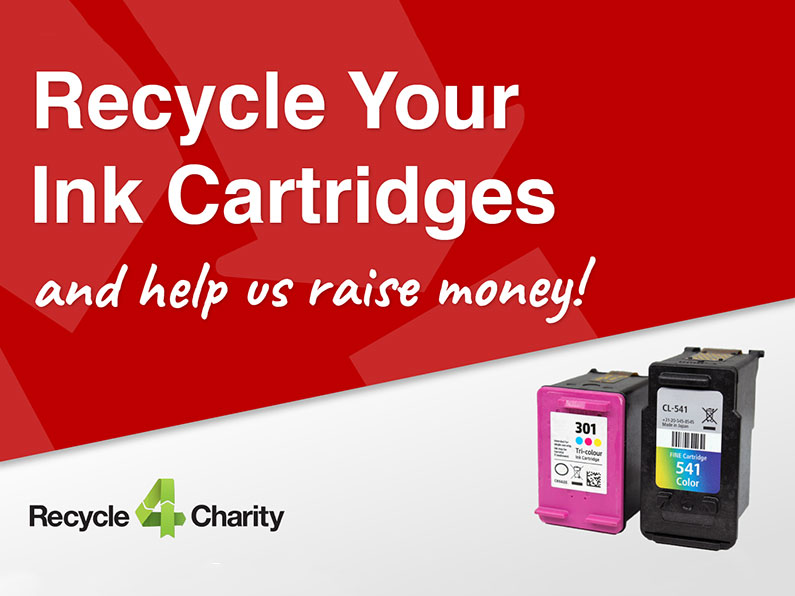 Recycle Your Ink Cartridges and Help Support Ups and Downs Southwest
Did you know that you can help us raise funds simply by recycling your ink cartridges via our Recycle4Charity programme?
For each ink cartridge recycled via the programme, we will receive up to £2 donation.
To send your cartridges or start collecting for us click here

You can support us easily while using eBay.
Seller
Sell an item on eBay, listed as a Charity item and donate a percentage to charity. When the item sells, you will receive a payment from the buyer (and a matching % fee credit from eBay.)
PayPal Giving Fund collects the donation from you. The payment method on file with eBay is used unless you chose otherwise.
If you tick the Gift Aid box, PayPal Giving Fund claims Gift Aid for the charity. After a short period to ensure all has gone through successfully, 100% of the donation and Gift Aid is transferred to us.
Buyer
Look for our eBay charity ribbon in the search result, which shows the items that benefit good causes. Visit and bookmark our home page and shopping page to view all the items that benefit charities.
When making a purchases, add a small donation to the charity you see in eBay checkout. Choose which charities you see in eBay checkout on the "My Favourite Charities" page in your Donation Account.
For full details see www.eBay.co.uk

Did you know that whenever you buy anything online – from your weekly shop to your annual holiday – you could be raising free donations for Ups and Downs South West with easyfundraising?
 There are over 7,000 brands on board ready to make a donation – including eBay, Argos, John Lewis, ASOS, Booking.com and M&S – and it won't cost you a penny extra to help us raise funds.
 All you need to do is: 
Go to Easyfundraising and join for free.
Every time you shop online, go to easyfundraising first to find the site you want and start shopping.
After you've checked out, the brand will make a donation to Ups and Downs South West. at no extra cost to you whatsoever!
There are no catches or hidden charges, and Ups and Downs South West will be really grateful for your donations.
Thank you for your support.