When:
June 14, 2023 @ 6:30 pm – 7:30 pm
2023-06-14T18:30:00+01:00
2023-06-14T19:30:00+01:00
Where:
The Park Centre
Daventry Rd
Knowle
BS4 1DQ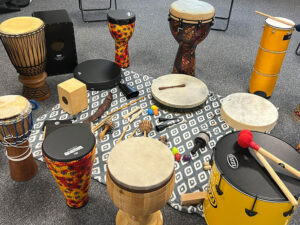 Shake Rattle and Fun
Bristol Youth Club
Get ready to shake, rattle, have fun and have a blast with Unique Perspectives! Join us for interactive sessions designed specifically for youth groups.
Drumming will take you on an exhilarating journey that's all about living in the moment, boosting reality orientation, and fostering self-awareness.
In this session, we create a safe and expressive haven where words aren't necessary.
We'll explore various hand drums and percussion instruments to keep things exciting.
Don't miss out—see you there for a rhythmic adventure!
"*" indicates required fields