When:
November 29, 2019 @ 9:45 am – 2:00 pm
2019-11-29T09:45:00+00:00
2019-11-29T14:00:00+00:00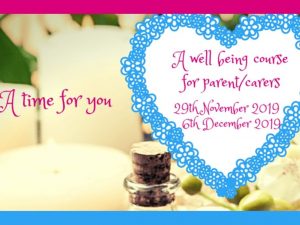 Wellbeing Course for Parents and Carers
Time for You
"Self-compassion is simply giving the same kindness to ourselves that we would give to others."– Christopher Germer
In conjunction with Compass Disability Services, we are delighted to introduce a new workshop, held over 2 consecutive Fridays, exploring the factors which help support your mental and physical wellbeing, including healthy eating, getting enough sleep and managing personal stress.
Each of the workshops will culminate in a practical relaxation session to give participants a taste of techniques such as mindfulness and Pilates.
The content will cover:
The importance of healthy eating
Developing good eating habits
Sleep problems and insomnia
Good sleep hygiene
Listening to yourself
Understanding the impact of too much stress
Recognising our own stressors
Techniques to combat stress
Course material will be provided and everyone attending will leave with a wellbeing goody bag.
When: Friday 29th November 2019 and Friday 6th December 2019
Where: Victoria Park Community Centre, Victoria Park Drive, Bridgwater, Somerset, TA6 7AS
Time: 9.45am welcome drinks 10am – 2pm
Cost: Free. This workshop is kindly supported by the Wessex Water Community Fund.
Who can come: Parents/Carers Only
What should I bring : You are invited to bring your own packed lunch.
What should I wear: Please wear comfortable clothing and footwear for the practical sessions.
"Self-care is not selfish. You cannot serve from an empty vessel."– Eleanor Brownn
To book a place please complete the form below.
Deadline 15th November 2019