When:
November 22, 2023 @ 6:30 pm – 7:30 pm
2023-11-22T18:30:00+00:00
2023-11-22T19:30:00+00:00
Where:
The Park Centre
Daventry Rd
Bristol
BS4 1DQ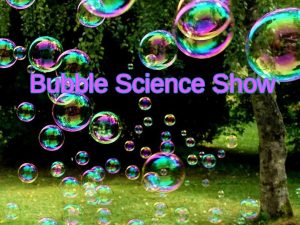 Bubble Science Show
Bristol Youth Club
The Bubble Science Show is an incredible and captivating experience that will bring joy and amazement to children of all ages. With a wide array of fascinating bubble tricks, they will be enchanted by bubbles that defy gravity as they float effortlessly through the air.
They will be thrilled as bubbles magically disappear into thin air or burst into brilliant colours.
The show also promises stunning visuals, including freezing fog and exciting flashes, creating an atmosphere of wonder and anticipation.
Our friendly performers will make it a point to interact with the children in the audience, ensuring every child gets a chance to be a part of the magical world of science bubbles. At the Bubble Science Show, we believe that imagination knows no bounds, and we strive to create an enchanting experience that will leave children spellbound.
Join us for a truly memorable adventure filled with fun, surprises, and the ethereal beauty of bubbles.
"*" indicates required fields